Trilobyte turned down offers to do games about the movies Congo and Blade Runner, and the television series The X-Files.

Nintendo decided to pay $1 million for the exclusive console CD-ROM rights to [The 7th Guest], even though it didn't have a CD-based console. Later it was learned that Nintendo bought the rights solely to prevent its archrival, Sega, from releasing the game on Sega CD.
Tidbits like these really give you a glimpse into the fascinating world that spins on behind the scenes. Crazy to see how a company that created a title as successful as The 7th Guest could fall so hard and so fast.
GameSpot seems to have taken down this article, which I posted about last year. It's 404ing on me when I try to go back and read it all. So here is the article in its entirety as seen on the Wayback machine. I think the article is too good to let disappear into the abyss.



Written by Geoff Keighley
Part 1: Recruiting The Guests


 
"The first CD player had this big thing on the back called 'Data Port.' It was a dead giveaway about the capabilities of a CD," recalls Graeme Devine, a long-haired lanky 33-year-old with a slight Scottish accent, who more often than not wears T-shirts bearing an illustration of cartoon character Scooby Doo. Even a decade later, he fondly recalls the day in the mid-'80s when he and his friend Andrew Glasser strolled through the bustling streets of London, walked into an electronics store, and bought one of the first CD players for music. "The shop owner was just aghast that these two sixteen-year-old kids were buying this expensive piece of equipment," he says. But those who knew the then 16-year-old Graeme Devine weren't surprised at his penchant for new technology. Born and raised in Scotland, Devine started programming at nine, and by 16 he was cutting class to program the racing game Pole Position for Atari. Later, he worked out of novelist Joan Collins' former bedroom in downtown London, programming for Activision.
Across the pond in the mid-'80s, Rob Landeros, a contemplative man 17 years Devine's senior, was a Luddite, preferring to hold a paintbrush or pencil than to tap away on a keyboard. Self-described as having "sedentary" tastes, Landeros had weathered the '60s in Berkeley, Calif., living in communes and drawing raunchy underground cartoons. A gifted artist, Landeros parlayed his talents into carving images of wildlife into fossil ivory. That is, until the fateful day when he bought a Commodore 64 in the mid '80s. It changed his life.
Bill Gates lauded Trilobyte's The 7th Guest as the "future of multimedia."
A half-decade later, forces of nature would bring Landeros and Devine together. They would cofound a company that would produce a product Bill Gates lauded as "the future of multimedia." The company was Trilobyte, and the game was 1993's The 7th Guest, a gothic-horror tale set inside a 22-room mansion, with enigmatic puzzles, stunning 3D visuals, and dazzling full-motion video. But more importantly, it was one of the first CD-ROM games - Devine's precocious data-port epiphany on the streets of London had paid off.

The stars aligned, and The 7th Guest was an unmitigated success. To this date, it is one of only a handful of PC games to sell upwards of two million copies. Thanks to the game's unheard-of success, Devine and Landeros were crowned the Ben and Jerry of the interactive industry; poster-boys for mastering what some deemed the impossible task of bringing The 7th Guest to life.
"Of all the developers from the early '90s, Trilobyte had the greatest potential," explains former Virgin Interactive CFO Keith Greer. "After The 7th Guest came out, they were absolutely golden, right up there with id Software, maker of Doom." But in retrospect, perhaps they were just gold plated. The wheels of history always tell a similar tale: Flush with overnight success, how would a company like Trilobyte ever manage to overcome the sophomore slump, which in many cases, turns into the kiss of death?
"I see a lot of parallels to the Beatles in the story of Trilobyte," explains a philosophical Kellyn Beeck, former Trilobyte chief operating officer. "Graeme and Rob, just like Lennon and McCartney, were vastly different individuals who contributed to the company's success and eventual breakdown." John Lennon was a street kid with a hard edge, and Paul McCartney wrote love songs. Their differences helped create a sound that captivated the world, but "just like Trilobyte, their differences eventually pulled them apart," explains Beeck. Trilobyte would go through many hard day's nights, but in the end, a long and winding road would lead to the severance of the partnership that created solid gold, The 7th Guest.
Although Trilobyte's heyday may seem like ancient history to gamers now awash in the latest 3D accelerated masterpieces on the PC, the company's story transcends time. If not careful, today's Blizzard could easily become tomorrow's Trilobyte. The world of software development is unforgiving and no matter how successful a developer is, a few games with less than stellar sales can lead to a quick Chapter 11 filing and another development-casualty story.
Have you ever wondered why bad games are made and why games we wait for years to play end up being far less than we wanted them to be? Often, the answers to these questions are a closely guarded secret inside the walls of today's biggest software companies. It's rare that we're given the window of opportunity to understand what really makes game developers tick, and to hear their unfiltered stories about what it's like to devote your life to building games.
The story of Trilobyte is one of those sagas, revealed here thanks to the passage of time and the cooperation of both Landeros and Devine, who haven't spoken with each other in nearly three years. In this extensive feature, you will understand what led to Trilobyte's dissolution. Regardless of whether you've played The 7th Guest, this is a story about two passionate visionaries who spun a web of success, only to become entangled in their own magnificent creation.
This is the story of the rise and fall of Trilobyte.
Page 2: You Guys Are Fired
When we last left Graeme Devine, he was busy cutting class to program Pole Position for Atari. One problem: The school didn't like it. "I took three days off to finish the game," explains Devine, "and when I came back, they expelled me!" Luckily, Devine's dad John was a resolute supporter of his son's programming. "I wrote the school a letter," says John, "and I told them, 'You guys should be proud of my son, not disappointed in him!'" As a result, Devine was reinstated, and he finished his schooling. Before long, Devine caught the eye of a distinguished British businessman named Martin Alper, who was preparing to move to the United States and head up software developer Virgin MasterTronics in California. Devine hit it off with Alper after one lunch, and he was offered the position of heading up Virgin's California programming department. Soon he would make the move from Britain to California and start the work of programming Virgin's slate of console titles.
Meanwhile in the United States, after discovering the novelty of a Commodore 64, Landeros knew his future lay in computerized graphics. He went on to work at CinemaWare, a Thousand Oaks, Calif., software developer. Eventually feeling "underappreciated and underpaid," he went on an interview at a new California company named Virgin MasterTronic. Weeks later, he was hired to head up the company's art department.
"I remember the first conversation I had with Graeme," recalls Landeros. "I called him up on the phone to say hi, and he mentioned getting engaged the night before." Devine, who at the time was programming Spot for the NES - based on the 7UP soft-drink mascot - immediately took a liking to Landeros. "I remember he'd bring in a lot of his work from the '60s, and we'd read them together," says Devine, a huge fan of comics. However, the projects on the docket at Virgin were anything but creatively inclined, unlike Landeros' zany '60s comics. Landeros recalls, "At one point, the VP of Virgin came to me and said, 'Hey Rob, do you want to work on McKids for McDonalds?'" He retorted with a pithy, "No." Before long, Landeros realized that Devine's interest in programming cartridge games based on licensed properties was waning. As such, they formed their own department of "research and new technology," which, according to Devine, really meant, "looking at doing a CD-ROM game."
Part of that "looking" involved attending conferences around the United States to discuss the compact disc as an emerging storage medium. At the 1990 InterMedia conference in New York, the duo sat in an auditorium with some 800 other developers ready to burn their code onto a CD. However, most of the developers at InterMedia were looking to shovel text onto CD-ROMs in what would best be described as multimedia kitsch. "Everyone was talking about how you can store a whole library on these CD-ROMs, but we wanted to do a game," explains Landeros. Their hunch was confirmed when the moderator polled the audience with the question, "Who is going to do games on CD-ROM?" Four developers raised their hands - two of those hands belonged to Landeros and Devine.
Sitting at La Guardia airport in New York, waiting to return to the West Coast, they realized this was the time to put together a pitch to Alper for a CD-ROM product. Virgin had a license to the classic board game Clue, and the initial thought was to do a game based on that. If it didn't work out, the David Lynch TV show Twin Peaks was an option, as both were caught up in the whole "Who Killed Laura Palmer?" fad of the early '90s. Unfortunately, or fortunately, depending on how you look at it, Alper wasn't interested in Twin Peaks. 
"The budget for The 7th Guest clocked in at US $600,000, triple what Virgin was use to paying for cartridge games." 
For the next few weeks, Devine and Landeros worked away on the first version of Microsoft Word to perfect their proposal for the plainly titled Guest. By now, the concept had turned from Clue to a haunted-house story that would use still pictures and contain puzzles in the same vein as the classic '80s brain-teaser game, Fool's Errand. Because of the emerging technology and the fact that the tools required to build a CD-ROM were prohibitively expensive at the time, the budget clocked in at $600,000, triple what Virgin was used to paying for cartridge games.
One day in late 1990, Martin Alper received the proposal for Guest on his desk at 11am. By 11:30, he had read it, called up Landeros and Devine, and invited them to lunch at the Farmer's Market in Costa Mesa. The trio drove to the market in Alper's Rolls Royce, sat down, and ordered their food. Devine and Landeros didn't know what to expect. "We were so nervous we couldn't even eat our food," confesses Devine. 
Alper, sitting across the table from the two developers, cut to the chase: "You guys no longer work for Virgin. You're fired."
Page 3: Setting Up Shop
Collectively, the two guys' jaws dropped to the floor. "We were in a complete state of shock," remembers Graeme Devine. However, Virgin's Alper wasn't quite done with his spiel. "Yes, I guess I fired them," he recalls. "But what I wanted them to do was work off-site on the project." Alper went on to explain to them that if the project was done in-house at Virgin, it would taint the rest of the company. With such an avant-garde project in house, "No one would want to work on any of the mundane bread-and-butter games," he says.
So, despite the huge budget, Alper decided to approve the project. "Graeme was the quintessential problem solver, and Rob Landeros wanted to make beautiful pictures," explains Alper. "They seemed like a great team and perfect complements. If anyone was going to pull off Guest, I knew it was going to be these two."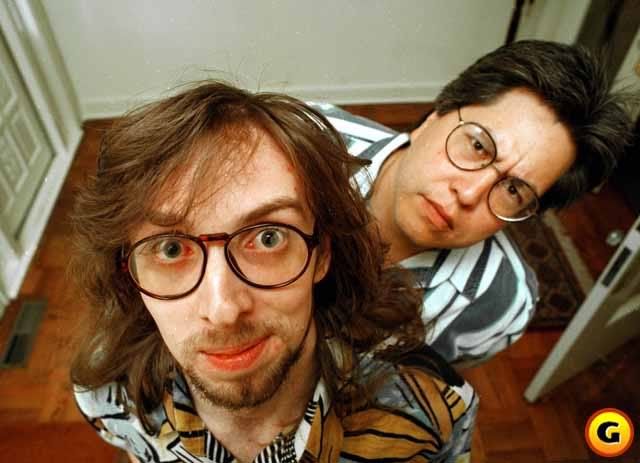 Devine and Landeros arrived in Oregon ready to build The 7th Guest (Photo credit: Steve Johnson).
Before lunch was over, there were just two provisos laid down by Alper. "First," remembers Devine, "we had to do a floppy disk version of the game too, and secondly, our offices had to be within 100 miles of Virgin headquarters in Irvine, Calif." It seemed like a fair deal, and as Landeros remembers, "As soon as Martin gave us the go ahead, we wanted to find a bar and put on a show."
Armed with the proverbial green light, at a developer conference for Atari's ill-fated color handheld named Lynx, Landeros proposed to Devine that they drive up the coast to Oregon to check out the southern part of the state as a possible place to set up shop. Landeros had previously lived in the area and thought it would be the perfect place to set up a creative outpost far away from the rat race in California. "We sort of forgot about Martin's second rule," quips Devine. In early December 1990, they drove up the coast of California, discussing their favorite movies and rationalizing how they were going to pull off Guest.
The Trilobyte logo.
Once they arrived in Southern Oregon, Devine fell in love with the location. The day they arrived happened to be the day of the local Christmas festival, and before long it was snowing, carolers were surrounding the car, and "we were ready to sign a lease," admits Devine. Days later, Devine and Landeros drafted "The Final Memo" for Virgin staffers in California, in which they explained that "Starting February 1, we will not be in our usual hovels. We are not really Virgins anymore, we are Trilobites." (As a testament to just how quickly things progressed, a few weeks later they would change the spelling of the name to Trilobyte.)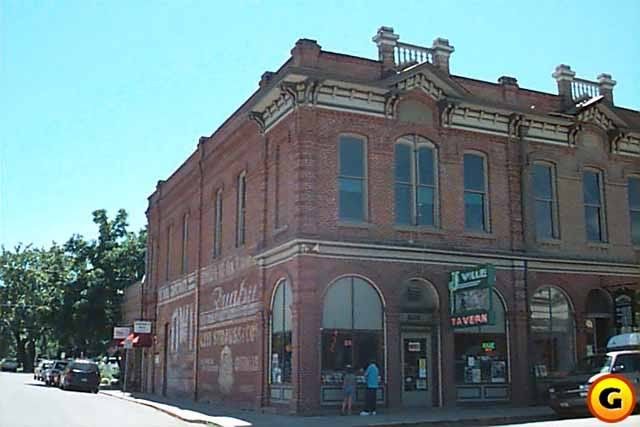 The J-Ville Tavern in Jacksonville, Oregon, home to Trilobyte.
By mid-January, 1991, Devine, Landeros, and their wives had relocated to scenic Jacksonville, Oregon. Devine and Landeros were 50/50 partners in the company. For their first office, Trilobyte leased the second floor of 110 S. 3rd Street, above the J.Ville tavern, a local pub. Inside the 1800s historical brick building, which was once the city hall, the office was as anti-corporate as you can get, complete with Oregon pine walls and floor, a chandelier, and a huge fireplace. "We each took a corner of the room and got to work," explains Landeros. 
The Noonan mansion in Jacksonville served as a model for the Stauf mansion in the game.
After hiring a local waitress named Diane Moses as their office administrator, Trilobyte set to work on Guest. The initial plan was to use a 360-degree camera to shoot still pictures of a local mansion, the Noonan house, but soon a more attractive option presented itself. A friend from Virgin, Robert Stein III, had been a beta tester for a new program named 3D Studio. "Rob rendered up this living room with a fireplace and a haunted chair that moved around, and we were blown away," recalls Landeros. Before long, Guest was going to be a 3D-rendered house, although perhaps only in black and white, as Devine was initially unsure a CD-ROM could support color rendering.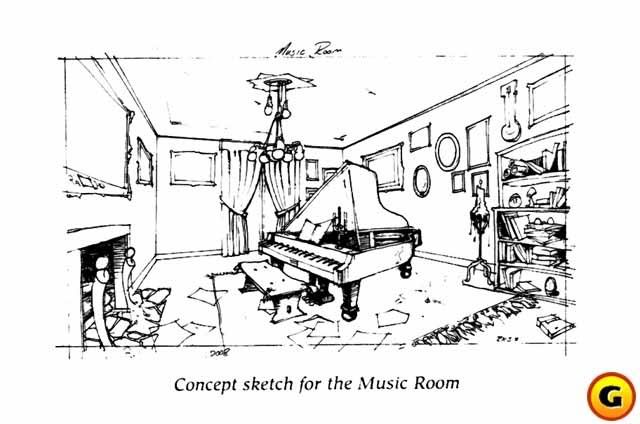 A concept sketch for the music room in The 7th Guest.
Trilobyte contracted out the script for the game to an established New York-based horror writer, Matt Costello, who fleshed out the tale of a toy maker named Stauf, who lived in his foreboding mansion and filled it with enigmas. "We wanted to make a classic horror movie," explains Costello, who communicated with the team over the phone and via e-mail. Accessibility was also of prime importance: "It had to be a single-button game," says Virgin producer David Bishop. "We threw out so many puzzle concepts because they wouldn't work with a mouse click, and we wanted to be as mass market as possible." Together, Devine, Landeros, and Costello collaborated on the puzzles and the game concept.
Hence, The 7th Guest was born, at least conceptually. The script was penned, the puzzles planned, and famous game musician the Fatman was brought on for the musical score. The final piece of the concept puzzle was the use of full motion video, making a mini-movie of sorts that would be composited with the 3D backgrounds. With a $35,000 budget, Super VHS cameras, and blue butcher paper as a background that would later be removed to help insert the actors in the game (a process called chromakey), Trilobyte filmed the script for The 7th Guest above C.K. Tiffin's natural-foods restaurant on the main street of Medford, Ore.
Having all the pieces of the puzzle, all Trilobyte had to do was fit them all together - a task easier said than done, considering no one had ever attempted such a project on CD-ROM.
Page 4: The World Premiere
Despite the formidable task at hand, "There was incredible camaraderie among the team members," says Trilobyte's former office administrator, Moses. The internal team merely consisted of Moses, the two founders, and artist Stein, all sitting in the four corners of the room. Other team members were scattered across the US, with artists in Boston, the Fatman in Texas, and Costello in New York. Still, the J.Ville Tavern ended up being a great office location, if for no other reason than the excitement downstairs sometimes proved a good respite from work. "It's fun to see the fights [downstairs] spill out onto the street," Devine told the Medford Mail Tribune, illustrating how the Tavern was quickly becoming part of Trilobyte's culture. 
Sitting around playing the computer golf game Links 386 to decide which features would make it into the product, the staff members of Trilobyte worked through all of 1991 with little fanfare. Graeme Devine worked on a proprietary technology named GROOVIE that would be used to mesh all assets together. Most importantly, GROOVIE needed to be able to continuously read data off a CD-ROM drive through a process known as streaming. (Streaming would prevent the need to copy all the video files to your hard drive.)
Come early 1992, Trilobyte headed out to the Consumer Electronics Show in Chicago to meet up with Martin Alper, who had yet to see the project's progress. On the show floor, Alper asked the boys how their game (and his investment) was progressing, and they offered to give him a brief demonstration of the technology. Before long, the machine that was demonstrating Scrabble was retrofitted to play a demo of The 7th Guest. What was intended as a private demo to Alper turned into the full-scale public premiere of The 7th Guest. The crowds just kept coming over to see the stunning visuals and the little light on the CD-ROM drive flickering away to show the streaming video… or so some thought.
At CES, developers thought Trilobyte was streaming data off a CD-ROM, when in fact they merely had a Danny Elfman music CD playing in the drive. 
"We actually had installed the game on the hard drive," explains Rob Landeros, "and we put a Danny Elfman music CD in the drive to add atmosphere to the demo." However, everyone didn't know about the music CD and assumed the animation was streamed off the CD. "We didn't set out to deceive people, but once some folks got wind of the real story, it led them to believe our demo was a sham," says Landeros. Even before the fateful demo at CES, journalists were cynical about The 7th Guest. This pessimism, compounded with the CES demo, led others to suggest Trilobyte wouldn't be able to pull off what they were promising.
Still, Trilobyte came out of CES with an exalted opinion of its efforts - the staff members knew that if they could deliver what they showed, the game would be a certified hit. "I remember walking through the streets of Chicago with the whole team, and Graeme turned to us all and said, 'We make a pretty good team,'" remembers Matt Costello, The 7th Guest's writer. "That was a real peak for me."
Flying back from CES, Devine and Landeros realized they had a gem in their hands - they just had to finish it. Back in Jacksonville, Trilobyte worked day and night to realize the vision of The 7th Guest. "I've never seen someone work so hard on a project as Graeme did on The 7th Guest," states Neil Young, a former executive at Virgin Interactive. According to George "The Fatman" Sanger, the suggestion that the product wasn't going to deliver on its promises only fueled the team's motivation. "Graeme wanted to prove everyone else a liar - he knew he was going to be able to do it."
And prove it they did. The whole team would work countless hours throughout 1992 to bring the game to life, and by the next CES in 1993, a full-blown demo was in place. It was clear the product was going to deliver. Devine would work through the night on his GROOVIE engine, sometimes going home so late that he joked about driving on the opposite side of the road, "just like I would be driving back in England." 
Content with the fact they were sitting on a gold mine, relationships flourished. "Graeme and Rob were really the best of friends," remembers Diane Moses, who played the beckoning ghost in the hallway of T7G in addition to her office duties. Devine and Landeros would watch movies together - once they watched The Shining on laserdisc twice in a row - and others like Rob Stein would go up to Graeme's house to watch lightning storms and view old Star Trek episodes. 
Although the Holy Grail was within reach, The 7th Guest was taking longer to complete than expected, and as such, Devine and Landeros worked without salary for the final months of the game's production. "The cash flow wasn't there, but we knew we had something special," says Moses. According to Young, "After CES in 1993, we knew T7G was going to be a blockbuster, but I think we redefined what a blockbuster was after it finally came out."
Part 2:
Page 5: Clock Strikes Eleven 
Cognizant of the fact that The 7th Guest was generating a good buzz, Trilobyte was already thinking of a sequel by October of 1992. "I just wanted to tell a new story and fix a few of the shortcomings we knew were going to be in The 7th Guest, such as the poor video production," explains Rob Landeros. Nevertheless, the company also had other projects in mind, including a William Gibson-esque cyberpunk strategy game named CyberNet, as well as a tale of time travel and old mysteries set in Egypt.
While Graeme Devine worked on the last-minute technical issues for The 7th Guest, Matt Costello was once again commissioned to write a script for the second game, set 70 years after the first. Using the Stauf Files - a book included with The 7th Guest - as a foundation, Costello drafted a script that included a cast of zany characters living in Harley on the Hudson, no doubt in homage to Twin Peaks. 
Unsatisfied with the video production for The 7th Guest, Trilobyte was eager to up the production values for the sequel, although they didn't have deep coffers, in part because The 7th Guest was still months away from shipping. The solution to their budgetary concerns came in the form of David Wheeler, a television and commercial director nearly the same age as Landeros who had just moved up to the Oregon area. Wheeler happened to introduce himself to Devine and Landeros at a local Film Association conference and expressed interest in working with Trilobyte on a future project. Little did Wheeler know that Devine and Landeros were in a bind; the bids they had recently received on The 11th Hour's video shoot clocked in at $500,000. (Unfortunately, Trilobyte could only afford to spend $135,000 at most). After learning of the project, Wheeler, eager to make his mark in the interactive genre, thought he could make the movie within Trilobyte budget, even though he would have to take a significantly reduced director's fee.
However, "Costello's script was just too large," admits Landeros. So, to work within the limits of the financing, the script had to be pared down, and Landeros worked with Wheeler on further developing the story of a television reporter named Robin Morales who goes missing in the Stauf mansion. The player would assume the role of Robin's producer, Carl Denning, who ventures into the decrepit mansion in search of his ace reporter. Eventually, the rewrite of Costello's script was returned to the original author, and Costello was none-too-pleased with the results. "David changed the nature of the characters, upped the nature of the violence, and pushed the sexuality," says Costello. Devine remembers that Costello called him up one day in early 1993 and said, point-blank, 'Who put the stockings and horns on Stauf?'" (For the record, both Wheeler and Landeros deny they dramatically changed the nature of the script. Costello did not respond to our repeated requests for direct evidence of the changes to his work.)
Regardless of the particulars, the shooting script was approved by Trilobyte, and the ten days of principal photography on The 11th Hour were scheduled for March of 1993. With Devine still finishing The 7th Guest in early 1993, he had to defer to Landeros to prepare 11th Hour for shooting. "Graeme seemed disconnected from the project," explains Landeros, "and I had to plow ahead." Still, Devine maintains that, "I respected and trusted Rob with the design of The 11th Hour, and I was confident we were going to create a great product to follow up The 7th Guest."
Page 6: A Question of Content
Principal photography on The 11th Hour commenced at an old National Guard armory in March of 1993 and on location around Southern Oregon. Although The 7th Guest was nearing completion and Graeme Devine needed to finish up last-minute programming issues, he did manage to make a fateful visit to the soundstage where production was taking place. 
On a chilly March morning in Oregon, the current scene in production involved the character named Marie, who was being filmed against a blue screen for one of the sequences inside the mansion's library. There the actress stood, dressed in black tights, with a spiked black collar girdling her neck and no clothing on her upper body. 
In her right hand she held a silver metallic chain attached to a German shepherd. Devine walked onto the set, and as Rob Landeros remembers, "You could clearly tell he was concerned about the content." Within seconds, a clearly distressed Devine pulled Landeros outside the soundstage and had what both classified as a "heated" discussion. "I told Rob, 'This is just not a comfortable direction,'" explains Devine, who says he "thought about what I was going to tell my wife we were making at Trilobyte." Landeros registered Devine's concern as a protest, but made sure to explain that multiple versions of the scene were being shot and that they could discuss at a later time which one to use. (Eventually, the nudity was cut from the game, a decision that Landeros admits was likely best for the product).
After leaving the soundstage, Devine says, he "really just thought of packing up and leaving after we finished The 7th Guest. After David's script, I thought the game had moved away from something the whole family could play." (It should be noted that The 7th Guest does contain some suggestive sequences, including a humorous adulterous tryst in one guest's bedroom). However, Devine believes that his partner "felt the game industry was very self-contained and wanted to break barriers with 11th Hour." Whether Devine agreed with Landeros' assertion about the game industry or not, "I wasn't going to break those barriers at my company." 
To many inside the company at the time and those associated with Virgin, such as Trilobyte's publisher, Devine and Landeros' clash over the content of The 11th Hour was surprising, especially considering the two had worked so well together on creating The 7th Guest. Some suggested that the introduction of the sole new creative element, director David Wheeler, may have influenced the process. "I think that if David wasn't introduced, the content for 11th Hour wouldn't have moved in the direction it did," explains producer Howard Schreiber, who first introduced Wheeler to the Trilobyte founders. "I don't think David pushed Rob in that direction, but Rob saw the ability to do what he did through David's leadership," rationalizes Schreiber. Both Landeros and Wheeler disagree with Schreiber's Svengali interpretation, with Wheeler bluntly stating, "Rob is a highly creative person and has great confidence in his creativity." Landeros admits he wanted to "push the envelope" with 11th Hour, regardless of the director.
What troubles Landeros is that Devine had ample opportunity to express his concern about the content, but "Graeme really withdrew from the project from a creative standpoint and didn't want to collaborate," he says. According to Devine, Landeros is right: "I didn't agree with the design or content for 11th Hour, and I decided that it was going to be a Rob and David collaboration, and I didn't want to muck it up further with my involvement." Both men, in retrospect, admit things perhaps should have been handled differently. "It was probably the first thing that pulled us apart," admits Landeros. "Perhaps we should have sat down and had a heart-to-heart… but we didn't." Yet even after the content disagreement, Landeros says, "It wasn't anything personal at that point."
Still, to those outside Trilobyte, the company was on the heels of its greatest success - With The 7th Guest scheduled to ship a few short weeks after wrapping up the principal photography on The 11th Hour, Trilobyte only had success in its future. However, to insiders, although Trilobyte was about to ride a wave of success, the undertow of tension over the content of The 11th Hour was cause for grave concern.
Page 7: Trouble At Mill?
By the time The 7th Guest was ready to release in April of 1993, the CD-ROM market was still very much in an early-adopter state. Even though the game was generating good buzz, Trilobyte feared it might not necessarily translate into blockbuster sales numbers. "I still remember we only had the budget to ship out 60,000 copies and that was it," admits Virgin's then-CFO Keith Greer. Even to insiders, The 7th Guest was anything but a sure bet.

The 7th Guest was incredibly popular. Consumers bought a CD-ROM just to play it.

When The 7th Guest finally arrived on store shelves, no one - even Trilobyte - was quite prepared for the response. 60,000 copies were snapped up overnight, and a bevy of requests for reorders arrived days later. "When the game was released, some CD-ROM manufacturers registered up to a 300 percent increase in sales for CD-ROM drives," says producer Bishop. The 7th Guest was actually selling CD-ROM drives, thanks to a groundswell of interest in the product. In addition, the game was meeting with a mass-market appeal second-to-none. "Now that I play wedding gigs, I still don't believe how many people say, 'I've played that game,' when I mention The 7th Guest," says The Fatman. The game was appealing to groups and families who would sit around and try to solve the puzzles. Whether it was a debate over how to slice the cake in the dining room, or how to move a group of spiders along the stained-glass window in the foyer, the technical pizzazz of the game, coupled with the brainteasers, was a win-win combination.
Regardless of any creative sparring over the direction of 11th Hour, Trilobyte was literally on top of the world, and as any MBA would have told Trilobyte at the time, the company needed to capitalize on its success. With a sequel to its much-revered first title already well into development, it looked like Trilobyte was ready to hit another homerun. The 11th Hour was scheduled to ship in the Spring of 1994, just a year after the first game had released. To most, it seemed like the smart thing to do. "For a sequel, sometimes you just want to get it out the door - we know that from games like Tomb Raider II and III," says writer Matt Costello.
It made sense to Landeros and Devine too - or so they thought. "I just wanted to take The 7th Guest technology and tweak it for The 11th Hour - That's the model that would have made sense," acknowledges Landeros. However, according to Devine, when Wheeler delivered his first cut of The 11th Hour movie at 64 minutes in June of 1993, it quickly became apparent that a quick turnaround on the sequel was not within Trilobyte's grasp.
"I still remember sitting down with my wife at our house and starting to watch the 11th Hour movie," explains Devine. "The first shot of the movie was of Carl driving a motorcycle at high speeds past trees. It was just a complete nightmare - the worst scene possible for video compression." Devine asserts that the technology for The 7th Guest could handle ghosts in a haunted house, but to put on-location video with camera movements onto a CD-ROM is a much more difficult technical problem. It was a problem that should have never been an issue, Devine contends.
"I remember sitting down on a couch with David Wheeler and saying, 'You need to keep the camera still,'" says Devine. Wheeler says he "never had that conversation" with Devine and explains, "Graeme and Rob had ample opportunity on the set and with dailies to ask me to change the way I was shooting the picture if it was going to pose a technical problem down the road."(Landeros also concurs with Wheeler's viewpoint and doesn't recall Devine's technical briefing on camera movement). 
Still, the video had been shot, and there was no time or money for reshoots. Hence, Devine was forced to rework much of his proprietary technology to handle the video, which he says was a formidable challenge considering even high-end MPEG compression cards couldn't properly display the video Wheeler had shot. To some, the first big mistake Trilobyte made was rewriting the video compression for The 11th Hour. "As soon as they decided to rewrite the engine for The 11th Hour, I knew there was trouble at the mill," admits Martin Alper.
As production on The 11th Hour began in-house, Trilobyte started to receive royalties from The 7th Guest, and the company decided to move into a larger building, an 19th century Victorian Schoolhouse that would accommodate a slightly larger staff. In tandem with this move, Trilobyte became interested in a project that Disney Interactive was eager to sell off named Dog Eat Dog. Billed as an office-politics simulator, you'd play an employee trying to swindle your way to the top of an organization. "Trilobyte thought they could pick up any project and it would turn to gold. I don't think they ever thought about why Disney might be selling it," says Virgin's Keith Greer. In the summer of 1993, Trilobyte paid Disney a low-six-figure amount for the project, and a group of programmers - including project lead Mitsu Hadeishi, moved to Medford.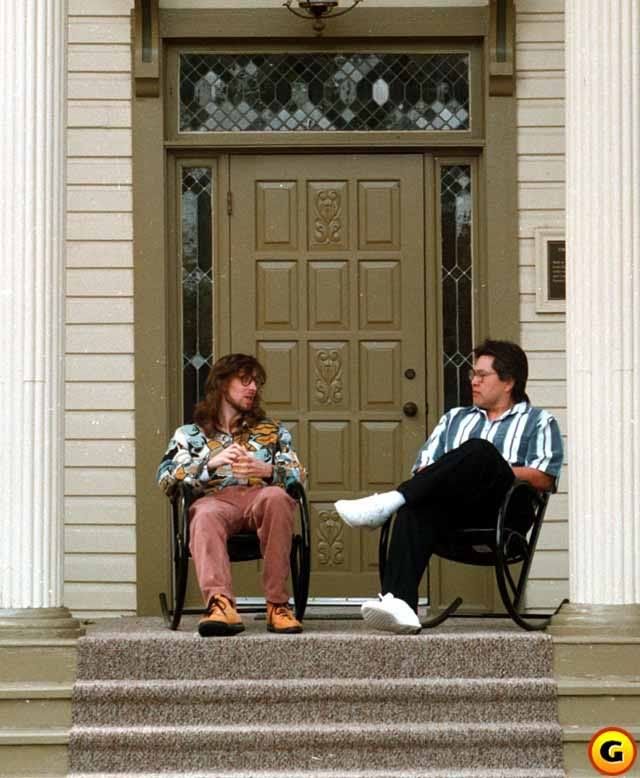 Graeme and Rob sit outside Trilobyte's new christened headquarters during happier times in 1993. (Photo credit: Steve Johnson).
The expansion didn't stop there. So excited by the prospects, the two founders rolled all their royalties from The 7th Guest back into the company, which meant they were only drawing a salary with each paycheck, while other employees took a percentage of The 7th Guest's sales revenue. Why? "Well, we thought the company was going to go public at some point, and we'd make bazillions of dollars," muses Devine.
Although it wasn't bazillions of dollars, Trilobyte met with investment advisor Andy Kessler in the summer of 1993 and managed to strike a deal for a $1 million investment from the Untenberg Harris venture capital fund. At the time, growth seemed like a smart move. "The 7th Guest just kept selling and selling," admits Bishop. "We'd look at the sales charts and it had incredible legs. Sales were picking up, not slowing down."
Page 8: Success Begets Success?
"I recall working in the dead of winter in early 1994, trying to finish deadlines for The 11th Hour," explains Landeros, "but no one else was in sight." When Trilobyte moved in 1994, The 7th Guest was still racking up huge sales, but to Landeros, the urgency of trying to capitalize on the series' success was not felt by everyone inside of the company. Although movie-style video trailers sent to the press had a booming voice that said, "Spring 94" for a release date, it became increasingly apparent inside Trilobyte that the game was nowhere near ready to ship in the early part of 1994.
According to producer James Yokota, when The 11th Hour moved from 256 to 16-bit color, every piece of art in the game had to be rerendered.
On April 27, 1994, Devine told the company over e-mail that "Today is the one year anniversary of the launch of The 7th Guest, the game they said was impossible to do." The 11th Hour, which was supposed to be an old dog with a few new tricks, not a new dog with a few old tricks, was looking like an impossible task to some inside Trilobyte. The possibility of the game shipping anywhere near the Spring of 1994 was quickly jettisoned when the product premiered at CES in 1994. Up until then, The 11th Hour had used 256 colors on screen, the same as The 7th Guest. However, as producer James Yokota remembers, "Because of the flashlight the character Carl carries in the corridors of the house, the game couldn't handle the color detail with just 256 shades." As a result, Trilobyte was forced to make the decision to go to 16-bit color depth. It meant rerendering every single art asset for a game that was already late.
Although The 11th Hour was slipping, The 7th Guest was selling, and that meant Trilobyte was still seeing cash flow into their coffers. In early 1993, pre-T7G, the company was nearly broke, but by early 1994, they had earned some $5 million in royalties based on The 7th Guest alone. At the same time, Nintendo decided to pay $1 million for the exclusive console CD-ROM rights to the game, even though it didn't have a CD-based console. Later it was learned that Nintendo bought the rights solely to prevent its archrival, Sega, from releasing the game on Sega CD.
Clearly, the 7th Guest had pull. "I could see the impact the attention from T7G had on [Graeme and Rob's] perceptions of themselves," admits Costello. From the perspective of their publisher, Virgin, Trilobyte was becoming unmanageable. "They had huge egos and wanted to grow," says Greer. "If they had stayed small, their value would have skyrocketed." As Alper remembers, "Trilobyte became infatuated with the idea of being a [software] publisher, without the realization of what it costs." 
Devine and Landeros wanted to control Trilobyte's destiny, and who could blame them? By the summer of 1994, limousines were pulling up to the schoolhouse, as major corporations such as AT&T, Microsoft, Disney, and 20th Century Fox were interested in taking an equity stake in the firm. And other companies were interested in having their intellectual properties developed into interactive products by Trilobyte. Paramount Pictures asked Trilobyte to do a game based on Congo; the company had a chance to do the Blade Runner game that eventually was developed by Westwood; Fox was seriously considering an X-Files game; and horror author Clive Barker wanted to develop a property at Trilobyte. In all the above cases, Trilobyte wasn't interested. It wanted to do its own creative and be in complete control.
But being in control didn't mean only doing one product at a time. Scaling up made sense to the founders. According to Greg Goodrich, a producer at Trilobyte, "Everyone assumed we were in the widget business." If The 7th Guest generated revenues 75 times what it cost to make it, "Then why not do it on a larger scale with multiple products?" (One of those "multiple projects" that was started but never finished was Project DNA, a story about a genetic mutation at a Mars flight-training center in the Antarctic.) Trilobyte was also keen on realizing its dream of becoming a software publisher and, down the road, of using its value either to go public or to be the subject of an acquisition.
To facilitate expansion, Trilobyte was looking for another equity investment to compound the Untenberg Harris capital. Paul Allen, cofounder of Microsoft and owner of the Portland Trailblazers, was very interested in Trilobyte's video technology, especially in how it might be able to interface with his fledging software development house Starwave. Soon, for a significant equity stake, Allen's Vulcan Ventures infused $5 million into the company. Despite the significant investment in Trilobyte, Landeros admits there were still major issues with the structure of the company. "I think there were a lot of questions about who was going to control what inside of the company, and to be honest, I don't think those were ever resolved," he says.
With millions in the bank, and The 7th Guest still selling, Trilobyte was ready to shed the schoolhouse office and shack up in an even larger building. As Robert Hirschboeck, who played Old Man Stauff, remembers in an article he wrote for his home page, "Rob Landeros the artistic designer, and Graeme Devine the crown (and clown) prince of programmers were as unlikely a pair of corporate tycoons as Wayne and Garth." To everyone inside and outside Trilobyte, no matter how odd the pairing, the results spoke for themselves. Everyone wanted to bet on Trilobyte, and, more specifically, on the pairing of Devine and Landeros. 
Page 9: The Last Time I Was Happy
By late 1994 Devine and Landeros had decided to move to a gigantic building with hopes of scaling up to 60-plus employees in the near future. Before long, Trilobyte had found a new home in a 29,000 square-foot building that used to house the data processing arm of a major bank, hence the requisite vault and bulletproof glass.
Trilobyte continued to expand and moved into a 29,000 square-foot office.
To fill the massive building with bodies, Trilobyte attempted to lure employees to the company by dangling stock options. Some employees liked the idea of getting out of the rat race in California's Silicon Valley and coming up to a more serene locale. Others saw huge potential in joining Trilobyte before it went public. Unfortunately, those talented artisans who were excited by the prospect of living in Southern Oregon were in the minority. "Graeme and I were naïve about moving to Oregon," says Landeros. "We had a really tough time recruiting talented programmers."
Trilobyte moved into its new office building in late 1994, but the move, coupled with massive growth and pressure on the part of everyone to get The 11th Hour finished caused great stress and tension inside the company. By October, it was clear that The 11th Hour was going to miss the 1994 holiday season. Trilobyte, having renegotiated its development contract with Virgin, was now fully funding The 11th Hour's development. (Virgin's investment was capped at just more than a half-million dollars, and the project cost was north of $2 Million.) Any cost overruns were coming directly out of Trilobyte's bank account. For Devine, all these factors finally took their toll. "I just became inaccessible to everyone in late 1994," he admits. And there was a reason why: "In November of 1994 I had an absolutely terrible migraine headache, and in retrospect, I think it wasn't just a migraine, but rather a stress breakdown."
Although the employees of Trilobyte were shielded from the facts of Devine's breakdown, the need to get The 11th Hour finished wasn't going to go away anytime soon. Thankfully, near the end of 1994, Devine and his team of programmers - dubbed the crunchcrew - were able to produce a demo of the game running in 16-bit color for the first time… halfway through the game's US press tour.
Clearly exhausted from the rigors of programming the new engine, Devine opted out of the press tour. In his place Wheeler accompanied Landeros on a whirlwind tour of the US to promote The 11th Hour in December. The game was then scheduled for a March release. "For the first few days of the tour," remembers Landeros, "we didn't have anything to show. No CD. We just talked." However, as Landeros and Wheeler arrived in San Francisco, COO Beeck arrived on an early-morning flight, gold disk in hand. "We went to demo the game to Multimedia World, and when the opening animation came up, I was really impressed," recalls Landeros. "It was actually working and it looked great - I was sure we were going to make March." But unfortunately, Landeros' hopes were misplaced. "In retrospect, that day was just about the last time I was happy at Trilobyte. It went downhill from there."
Part 3
Page 10: A Year of Waiting
1995 began with Devine sending an e-mail to the entire company on January 2, clearly concerned about the direction of The 11th Hour. "We left 1994 with no game complete," he wrote. "And in fact, I think it's in a worse state than when we left in 1993." He surmised that, "In the end, I think we tried to push completion of The 11th Hour into the hands of a group of people who had too little experience, too much ambition, and not enough management." By this time, Landeros had renamed the crunchcrew the "cruisecrew," and Devine agreed with his partner's sentiments.
"I think Graeme's e-mails got a little harsh at times," explains artist Mark Peasley. To many inside the company, the e-mails were downright caddish. Devine admits he went through an "acid period" after his migraine attack in late 1994, and his e-mail exchanges were in part mandated by the fact that his hours were usually 4pm to 4am, quite different from the normal 9-to-5 schedule of some employees (making face-to-face communication difficult). "I really don't think Graeme meant any harm with them," explains programmer Sherman Archibald, Devine's best friend. "I think he was just dealing with the stress in his own way."
However, the e-mail exchanges were troublesome to Landeros, who admits he and Devine had different opinions of how to run a company. "I was more of a stickler for running the company on a more professional level," explains Landeros, "but Graeme wanted a more friendly collaborative environment - sort of a mini-utopia. I don't think his mode of operation is necessarily wrong, but it was tough for me to handle." Indeed, this difference in protocol was something that came out of the woodwork as Trilobyte grew. With some 50 employees at the company, Trilobyte was even publishing its own glossy newsletter - Devine had a large audience over e-mail. To Mitsu Hadeishi, 32, project leader of Dog Eat Dog, it was a clear generation gap fueled by the 17-year age difference between the founders: "Rob wanted to do things in a very old-fashioned hierarchical way, and Graeme wanted a more consensus-driven business." 
By early 1995, Devine had moved up to work directly with his Crunchcrew on the third floor of the building, and he still fondly remembers the good times. "I'd go off to Toys "R" Us and buy a basket of Nerf guns, and we'd have fights with those," he recalls with glee. Although The 11th Hour was late, thanks to the impressive press tour demo, everyone was clearly expecting the company to meet its early-1995 ship date - including Landeros.
The March date came and went, and Trilobyte then pressed on for an April 28 beta. Soon, the pressure mounted again for Devine, who was solely responsible for the video compression. By March, he had formed a proxemic bubble of sorts so he could clearly focus on the technology. In a March 21 e-mail, he said he was "hanging a virtual 'Do not disturb' sign on the door for the duration of the project." As Dog Eat Dog project leader Mitsu Hadeishi remembers, "I walked into Graeme's office one day in April and said, 'Can we talk?' and he said, 'I can't talk to you.' He was just clearly stressed out."
The mouse artificial intelligence puzzle was one of the many perplexing technical hurdles to overcome in development.
Programmer Preston Moser also remembers the stress Devine was under: "I remember I had worked for 24 hours on one puzzle for the game, and I finally got it to work. I was really proud. So I took it to Graeme and told him about it. He snapped back, 'Oh, I could have done that in two hours,' and looked away." Devine remembers the incident and says, "That was absolutely awful, I admit it. I had never managed people before, and no one else was stepping up to bat. There was just an incredible amount of stress."
"Even the rabbit in Alice in Wonderland wasn't this late." 
- Graeme Devine on 11th Hour's slippery slope release date.
Devine's stress was also felt by Landeros, who was eager for The 11th Hour to ship. According to Landeros, it was nearly impossible to ascertain the status of the project. "For all of 1995 I felt like I was caught in a bad dream. It was like that line from Chinatown: 'Forget it Jake, it's Chinatown.' I didn't understand why we hadn't shipped the game, and I couldn't get a clear answer out of Graeme or anyone as to what was taking so long." The April 28 beta date passed, and as Devine said over e-mail to the Crunchcrew on May 3, "Even the rabbit in Alice in Wonderland wasn't this late."
The tension inside of Trilobyte was even evident to actor Robert Hirschboeck, who played Stauf. "The true toy maker, Graeme Devine, keeps his office door closed now, or wanders the carpeted corridors in his duck jacket," he wrote. Morale was at an all-time low, and employees were wondering if The 11th Hour was ever going to ship.
Frustrated by the lack of progress on The 11th Hour, Landeros became interested in a screenplay that 11th Hour director Wheeler had written called Tender Loving Care, based on the book by Devil's Advocate author Andrew Neiderman. "Rob came to me at one point and said, 'What about doing TLC at Trilobyte?'" recalls Wheeler, who was surprised Landeros would make such a suggestion about a screenplay that included sexual situations more intense than The 11th Hour. "I was surprised they wanted to do it because there were a lot of people at Trilobyte with stunted emotional growth," explains Wheeler. 
In early 1995, Wheeler and Landeros took a trip along the Western coast of the US and fleshed out a concept for Tender Loving Care as both an interactive production and a feature motion picture. On April 16, 1995, Landeros submitted a proposal to Trilobyte's board of directors that asked them to support "RT" or "Rob's Thing."
Page 11: Rob's Thing
"I don't think I can do my best work if my attention is in a half-dozen different directions," wrote Landeros in his pitch document. "What is disturbing is that many of our products lack someone willing to take firm creative control and final responsibility." In essence, Landeros wanted his own creative project that he would be held accountable for. As he told the online magazine Café Z, "I consider the company my playground - my own little sandbox. I can choose my own projects, get them approved, and get a budget."
TLC, a story of high-voltage sexual intrigue, had an interesting twist insofar as it would use psychological questions to probe into the subconscious mind of the player. Like Trilobyte's previous products, it would use full-motion video. Yet unlike The 7th Guest or The 11th Hour's design, which impeded players from progressing until they solved a puzzle, TLC would use multiple-choice-based psychological questioning throughout the story to mold the experience into whatever the user's secret desires, predilections, and aversions may be. To everyone on the corporate board, the idea of using psychological questioning in a product was brilliant. But it wasn't going to be a game. As Landeros told the Seattle Times, "The best idea I had was to cut out the games stuff. This is a product for those of us who don't want to shoot an alien intruder."
Moreover, there were concerns over the content, which writer Noble Smith describes as a "voyeuristic product." According to artist Ken Nash, "The thinking with TLC was that we were making a product that us guys would like to play." Landeros knew TLC was an experimental product, and as he wrote in April, "No one would dare take such a bold approach in this medium, with such high stakes involved." The board was interested in perhaps doing an interactive product to keep Landeros happy, and it began exploratory work to find outside financing for the motion-picture portion of the project.
With the TLC concept being bandied about Trilobyte, the greatest concern was over The 11th Hour, which was now more than a year late, with expenses creeping well north of two million dollars, 75 percent of which was paid out of Trilobyte's own pocket. Many inside the company didn't know what was taking so long. Producer Scott Russo at Virgin remembers, "When I'd talk to Rob on the phone and ask how the game was coming, he would just say, 'It's going to be done when Graeme wants it to be.'"
Clearly, there was a disconnect between Devine and Landeros about what was taking so long with the game. Landeros felt that his part of the game was done in the middle of 1994, and now they were just waiting for Devine's technology so they could ship the product. But as Devine points out, "I don't think Rob understood the restrictions of the technology we were working with for The 11th Hour." Whereas The 7th Guest was collaboration between the two founders, The 11th Hour turned into an assembly-line-like production mentality with the handoff from one founder to the other.
"I think Graeme and Rob are dramatically different people," explains Alper. "Rob doesn't care about technology - he wanted to make movies. But Graeme is a technocrat and wants to build the all-singing and all-dancing engine. I think he bit off more than he could chew with The 11th Hour's engine." With Landeros becoming increasingly interested in developing TLC as a feature film, and Devine wanting to trump the technical wizardry he had crafted for The 7th Guest, the founders were clearly going in different directions. Even those who went into the separate offices of the founders noticed different personalities. Devine's office was cluttered with Star Trek and Scooby Doo items, whereas Landeros had wood-paneled walls and a much simpler aesthetic.
Although mindful of their differences, Devine and Landeros still spent time together and even played golf in July of 1995. Landeros, who plays golf frequently, had a good game, and Devine shot a 63, although, as he wrote in e-mail, "That was only for the first nine holes."
The Fatman returned to write music for the 11th Hour.
Unfortunately, the ship date for The 11th Hour was hitting a sand trap. "We knew the game was going to get done," explains Virgin's Young. "It's just that there was zero predictability in when it would be done." By the middle of the summer, Devine said in an e-mail that he felt like "He was finishing this alone," and that there was growing concern that the game might not even make Christmas of 1995. With Landeros busily preparing to shoot TLC, Devine says, "We'd ask Rob for help on the puzzles and he'd say, 'Sorry, I'm working on TLC now.'"
Trilobyte was supposed to be weeks away from shipping 1995's biggest game. There were huge previews in gaming magazines, and the buzz was at an all-time high. But those inside Trilobyte had greater concerns. There was a sense that Trilobyte was falling apart at the seams, and some wondered if The 11th Hour would ever be finished under such difficult circumstances.
Page 12: Money Walks
By late summer, Tender Loving Care was ready for principal photography with a budget of $800,000. According to a number of the Trilobyte board members, the project was green lighted as an experimental project for $500,000 on the interactive side, although "the film financing was supposed to be found outside the company," according to Devine. 
Given Devine's reaction to the nudity in The 11th Hour, was he not concerned with the screenplay that was about to be filmed? "I got the TLC script to Graeme so I could make sure he had no problems," says Wheeler. "And he said, 'I have no problems with this.'" Devine said he did read the script and didn't raise any issues with it, which was a surprise to many inside Trilobyte. What wasn't known to anyone inside the company was the decision that Devine had already come to, privately. "I had made the decision to get out of Trilobyte," he admits, "so I didn't want to influence the direction of that project. I respected Rob as a person, so I always wanted to publicly support what he wanted to do. But yes, I did have concerns about the content." 
The story of Tender Loving Care involved a young couple that loses its only child in a car crash, and as a result, the mother starts to lose her grip on reality. Soon after, the couple visits a psychiatrist who appoints a nymphomaniacal live-in nurse, Kathryn, to the case. The nurse further complicates all facets of the couple's relationship, including their sex life. (In the interactive product, adult situations could be avoided based on the user's own selections). Even with the adult themes in Tender Loving Care (which "a lot of people were uncomfortable with," according to COO Beeck), the film was shot in the late summer and early fall of 1995. 
Although Wheeler and Landeros maintain that the Trilobyte board had approved their budget for the filming of the project, many of the board members felt they had never fully signed on for the project's full production cost. No matter, production began, and Trilobyte flew Oscar winner John Hurt and his girlfriend in from Kenya at a cost of $20,000 so he could spend a week on the set playing the psychologist Dr. Turner and earning close to $100,000 for his work. Relative unknowns would flesh out the rest of the cast, although Robert Hirshoebeck, known as Old Man Stauf to Trilobyte fans, was brought in for a cameo. 
To an outsider, it may seem puzzling that Trilobyte would be sinking nearly a $1 million dollars into a feature film when its staple product, The 11th Hour, had yet to ship. But money was walking out the door, according to many inside the company. In late 1995, Trilobyte also began production on Castle (later renamed Clandestiny), known as "The 7th Guest in Plaid," which detailed a young couple's adventure to reclaim their ancestral home in Scotland. A Taiwanese firm was hired for $150,000 to do the hand-drawn cel animation.
Although Landeros told Café Z magazine that Trilobyte "prided itself on having sound fiscal procedures," those inside the company paint a different picture. "I produced Castle and never even saw a budget for the project," exclaims James Yokota. "No matrixes to track dollars or anything - we literally just spent money when needed." As investment advisor and board member Andy Kessler remembers, "At one point, someone inside Trilobyte said to me in reference to cost overruns, 'We had the money in the bank. If Paul Allen didn't expect us to spend $5 million, he wouldn't have given it to us.' To me, that was the telltale sign that people inside the company didn't understand value. If you are going to spend the money and not invest it to create value, you are going to lose the company."
However, amidst the cost overruns, there was good news: By fall of 1995, it appeared The 11th Hour was finally ready to ship. The crunchcrew had delivered the final gold masters to the duplication house in early November, and by the end of the month, the four-disk 11th Hour, featuring breathtaking 24-bit 30 frames-per-second video, was going to be on store shelves for the holidays. 
On November 30, a staffer at Software Etc. called Devine at his office and left a message: "Hi, this is a call for Graeme Devine from Software Etc. to let you know that your copy of The 11th Hour is in stock and on hold. This coming Sunday, 11th Hour creators Graeme Devine and Rob Landeros will be at the store signing copies of the game."
11th Hour had finally arrived.
Page 13: Where Am I Needed?
Devine and Landeros might have been making public appearances with each other in the latter part of 1995, but the pressure over the release date for The 11th Hour, coupled with concerns about Tender Loving Care, had taken a toll on the relationship between the founders. At the 11th Hour ship party, Devine said in a speech to the company, "I'd especially like to thank my partner and friend Rob Landeros, without whom there would be no Trilobyte." But behind the scenes, those close to the two founders were questioning the sincerity of the sentiment.
"The relationship between Graeme and Rob was irreconcilable the day The 11th Hour shipped," admits producer James Yokota. Although Devine was publicly supporting TLC, his response when asked about the product in the 11th Hour hint book was telling: "That's Rob's product. It's not mine. We tend to have different thoughts…."
Those different thoughts were quite evident to Greg Goodrich, whose producer duties at Trilobyte were "soon focused on running interference between Graeme and Rob and acting as a liaison." Things were so unsettling that toward the end of 1995, "there were only a few hours each day when Graeme and Rob were in the office at the same time," explains Goodrich. "During this extremely volatile and unsettling time, I usually went to lunch." With all verbal communication ceasing, issues were sorted out over e-mail between the founders, both publicly and privately.
The 11th Hour arrived on store shelves, and although the critics praised it - Multimedia World called the product a "sexy and serious adventure game…. Brilliant graphics and a marvelous score grab your attention" - consumers were having a tough time with a DOS-based product shipping only months after Windows 95 released. "We were getting a lot of support calls at Virgin," remembers Virgin's Neil Young, "and 50 percent of those were, 'The game won't install.'" The 11th Hour had the biggest ship-out of a PC game up until that point - nearly half a million units - but, as staffers at Trilobyte joked, the hardest puzzle of the whole game was getting it to install. Although sales during the first few weeks were brisk, "I think a lot of people expected something a little more different than The 7th Guest, given the delay," says Virgin's David Bishop.
The tension inside Trilobyte in late 1995 was also taking its toll on the employees. Goodrich, who had worked on the TLC movie - which apparently infuriated Devine - took a weeklong vacation after the film wrapped, and when he returned to Medford, "My house was empty," he says. "My girlfriend of six years had left and taken everything out of the house. I couldn't blame her." Although The 11th Hour had shipped and was meeting with huge success by normal software standards, Goodrich didn't care. "I spent two years training to become a Secret Service agent during college, but jumping in front of an assassin's bullet seemed more appealing to me than my final days at Trilobyte [in 1995]."
Devine, in his final e-mail sermon to his Crunchcrew on December 5, 1995, decided to throw in the towel, disgusted by what his company had become. "The reasons are complicated, and I don't need to get into them here," he wrote, "but I'll be letting Trilobyte do its own thing for a while. It doesn't need me anymore and I need to be somewhere where I'm needed."
The 11th Hour was out, and Trilobyte was supposed to be hanging from the rafters with joy - instead, the company was starting to crumble, and many employees doubted whether they would have a job in the new year.
Page 14: The Party's Over
Coming out of the holidays, The 11th Hour had sold a good number of copies - blockbuster numbers by most standards - but the sales numbers were far from delivering on the predictions of it matching or eclipsing the sales of The 7th Guest. Consumers were frustrated with the installation, annoyed at the copious anagram-oriented puzzles, and downright distraught over incredibly difficult artificial-intelligence games. 
As the inventory of The 11th Hour quickly diminished over the holidays, Devine took a personal inventory of sorts. Less than a month after his announcement that he would let Trilobyte "do its own thing for a while," he had decided to put on a positive public face and press forward into the new year. "I was burnt out at the end of 1995 after The 11th Hour was finished," admits Devine, "but I managed to calm down over the holidays and get motivated to help save the company." Devine's first act of reinvigorating the firm's employees came in an e-mail. "This may well be the year Trilobyte goes public," he explained over e-mail on January 1. "And this year will see Clandestiny, TLC, Dog Eat Dog finished, The 7th Guest 3 underway, and more projects beyond that."
Some didn't buy Devine's promises of a glorious 1996. In particular, Greg Goodrich wasn't about to stick around to find out what the future would hold. "After spending six nights sleeping on the floor in the middle of an Oregon winter, with a jacket as a blanket and a Glad garbage bag full of underwear as a pillow, I knew it was time to head home to California," he says. Goodrich had thrown in the towel, but many other employees who survived the end of 1995 decided to stay on board, hoping things would turn around in 1996. 
By early 1996, with multiple projects in development and The 11th Hour generating less revenue than expected, "You could see a one-directional cash flow developing," says CFO Jeff Johnson. The huge cash outflow was no doubt due in part to a lack of solid management at the top. "It was pretty clear early on that managing multiple production efforts was beyond the capabilities of the principals to handle," explains Ralph Derrickson, who represented Paul Allen's interests on the board.
Devine said in the 11th Hour hint book that "management of the company is going to become my major interest." But, as Alper put it, "Graeme's not a great businessman, he's a great dreamer. Unfortunately, they didn't have one good businessperson at the company. Not one." Although Beeck was instated as the COO, Landeros and Devine, the majority stockholders in the company, could overrule him. In addition, "Both Graeme and Rob didn't take constructive criticism very well," says Derrickson, "and confrontation was not something they excelled at." The result was "that Trilobyte ended up being a hydra, managed by Graeme and Rob. It just didn't work."
One of the first products to be all but cancelled was Dog Eat Dog, the office-politics simulator that had ended up costing the company $800,000 to produce. Wheeler had even shot more than 180 hours of expensive blue screen photography for the product - actress Mira Sorvino was close to being signed for a role, but the deal never panned out. Regardless of the star power, by mid-1995 the core team responsible for the project had left Trilobyte, and the project was put on the backburner. It was never released.
One project, Clandestiny, was still scheduled for completion in 1996. It was to be Trilobyte's first self-published title as a Virgin Interactive affiliate label. Clandestiny was an original concept by Devine, and it was primarily designed by James Yokota. "During 1996, I was trying to distance myself from all things Trilobyte," admits Devine. Still concerned about the direction the company was headed, "I was there in person, but not in spirit," he surmises.
The production team of Clandestiny found it incredibly difficult to discuss matters with Devine. Producer John Gaffey remembers, "James and I would have to make up a list of questions about Clandestiny to ask Graeme, and then when we were playing a game of WarCraft II against him, we'd try to sneak in a few questions through the chat interface." (Devine doesn't remember the incident, but admits he was distant from the project.)
With The 11th Hour not generating the projected revenue, "Things got very arduous," according to artist Rob Stein. "I think Graeme and Rob thought the company would have been big enough to support their two diverging creative interests, but when the cash flow wasn't there, we ran into trouble."
In the Spring of 1996, Devine set up a new group to explore emerging technologies - Landeros nicknamed it 'Graeme's cadre' - and Tender Loving Care was nearly ready to be screened as a full-length motion picture to the company, and to the entire game industry.
Part 4
Page 15: A Tender Moment
By mid-1996, David Wheeler had completed the feature film cut of Tender Loving Care and was ready to screen it to potential distribution studios. Having seen the dailies, the executives at Trilobyte were concerned about its marketability. "Our marketing department was concerned about the sexual content," remembers Landeros. Nevertheless, the company went ahead and held a screening of the film at the Medford theatre for all the company employees. Although the game would allow players to tailor the content to their suiting, the film contained full-out adult content. The reaction was mixed.
"I definitely thought it was a little on the hard-R side," explains artist Mark Peasley. To some, TLC was a complete shock - they couldn't believe such content was coming out of Trilobyte. Others found the film a refreshing change and a "real psychological adventure," according to Noble Smith. To Devine's credit, he fully supported the film, standing up in front of the audience and telling employees as he left the theatre, "Wasn't that great?" Devine says," Although I had a creative disagreement with Rob, I still wanted to support him."
CFO Jeff Johnson was more forthright in his opinion: "TLC was just flat - not compelling in the least, and that's very frustrating when you've spent over a million dollars for the film." Both Landeros and Wheeler stand behind the picture, although in retrospect, Landeros admits, "TLC probably pushed the envelope too much for Trilobyte." Trilobyte also took the film to the 1996 Game Developer's Conference in San Jose and the Electronic Entertainment Expo in Los Angeles. As Landeros put it, reaction at the screenings was "mixed." One magazine, New Media, said, "Those trapped in the theater were subjected to a soft-porn film with a weak plot and rancid acting." However, some Trilobyte employees, including James Yokota, found merit in the fact that "at least Rob and David stayed true to their vision with TLC." But even aside from the film, some employees were taken aback by the psychological questions in the interactive product that probed players about the most taboo of sexual subjects.
By mid-1996 Trilobyte was starting to run low on cash, due in part to huge expenditures on products like TLC, which the board maintains cost upward of $2.5 million to complete. "TLC was an experimental product, and here it was costing more than The 11th Hour," says CFO Johnson. For the record, Landeros insists TLC cost no more than $1.7 million. Regardless of the budget and the particulars, the facts don't lie: $6 million in equity financing had all but dried up at Trilobyte.
About this time, Trilobyte entered into exploratory discussions with Broderbund about a possible acquisition of the company. Although Landeros and Devine had decided an initial public offering was not in their interest, public corporations like Broderbund were keen on internalizing talent that could produce games like their megahit, Myst. In its heyday, Trilobyte was valued by some on Wall Street at upward of $50 million. Although Broderbund considered an acquisition, at the end of the day it never came to fruition.
"The Stauf Mansion Through the Years"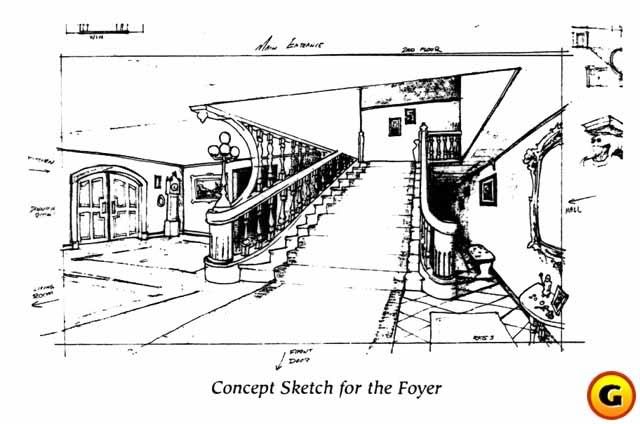 The initial concept sketch for the mansion's foyer.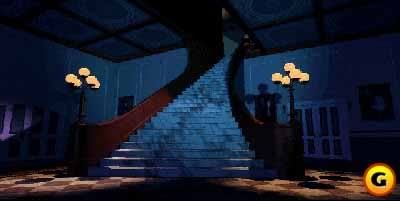 The foyer comes to life in The 7th Guest.
70 years later, the foyer in The 11th Hour.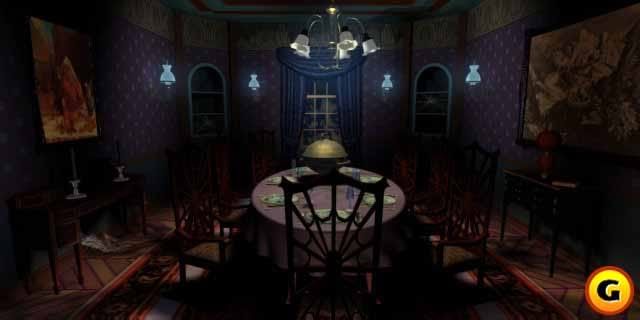 An exclusive image showing the dining room from the never released The 7th Guest III (Render by Ken Nash).
While TLC was winding its way through post production, Virgin entered into an agreement with Trilobyte for the creation of The 7th Guest III, which was to be a joint venture between the two companies. "T7G3 was going to be very media soaked," says writer Matt Costello, "and we were going to ask, 'What if games, gamers, and the media were controlled by a satanic figure?'" Virgin contributed $500,000 to the project, and Trilobyte began work on initial art and design. However, by mid-1996 it was clear to Virgin that Landeros' heart was not into the game, and the publisher - dismayed with progress on the title - promptly cancelled development.
While Devine and Landeros were still working in the same office building, their communication was sporadic at best. "I'd talk to Graeme and Rob separately and ask, 'When was the last time you guys talked?'" says Kessler, "and they'd say, 'Oh, at the last board meeting.' It just wasn't healthy." The respect between the two founders seemed to be dwindling, and everyone inside the company knew something was wrong. "I still remember that at our summer picnic on the Rogue Valley, Graeme and Rob threw a Frisbee back and forth," recalls Yokota. "I think everyone was collectively amazed they were even doing that."
But within weeks, even tossing a Frisbee back and forth would become too great a task for the founders of Trilobyte to manage. Next, Devine would move offsite, and the final chapter of the partnership would be written.
Page 16: He's Left The Building
 
Soon after the TLC screenings, Landeros suggested that David Wheeler join the M7 management group at Trilobyte, which he did. Devine, who had long since decided not to exert influence on the proceedings at the company, did not object to Wheeler's involvement in the management, although he did stop attending management meetings whenever Wheeler was involved.
Devine retreated to set up his own small development team in early 1996 to work on an Internet-based 3D project that was the polar opposite of the large-asset CD-ROM games Trilobyte was known for producing. Commandeering his own room of the Trilobyte office building, Devine began to work with a handful of technicians on a concept for a huge online multiplayer game. "I thought the market was definitely changing," explains Devine, "and if Trilobyte was going to continue to survive, we needed to adapt to the change." Furthermore, Devine admits he was upset about the huge cost of TLC. "When I saw TLC and the cost associated with it, I said, 'OK, Rob got all that money to do his product, so now I want that much money to do my game.'" 
For months, Devine worked with his team on a project code-named Millenium, which would later be renamed Assault. The concept was to create an online top-down perspective 3D tank game. To the investors, it seemed like a savvy move, since 3D action games like Doom and Quake were the hottest titles of the year. With Landeros working on TLC and Devine moving into Internet content, there was hope among the investors that the two founders would still be able to work under the Trilobyte roof, albeit on separate projects and perhaps with separate brand names.
Unfortunately, things came to a head one day in the early summer, when Devine walked into the Assault room visibly shaken and near tears. "I was sitting there playing Quake with a few of the guys in the office, and Graeme came in looking incredibly upset," recalls programmer Doug Marien. "We figured it was time to stop playing Quake." Before long, Devine explained to the team that "I couldn't take it anymore. I just asked myself, 'What am I doing here?'" Before long, Devine had sent a message to the two investors in the company that said, "You guys don't need me anymore. Trilobyte is going to do great. Bye."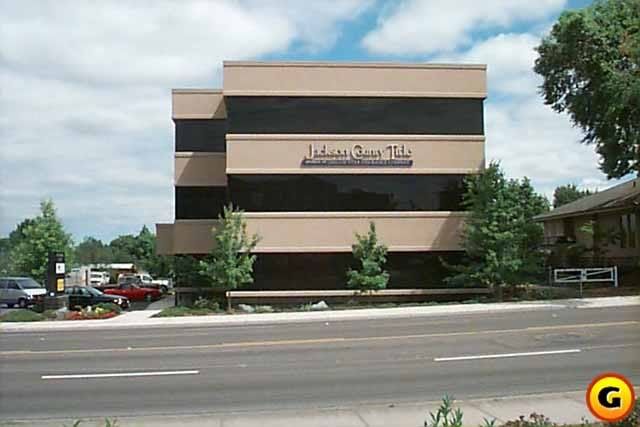 Despite the fact that the Trilobyte building had ample room to house Devine's team, he moved him off site to a separate building two blocks down the road.
According to Landeros, all this transpired while he was on vacation during the summer: "I came back and Graeme was ready to quit." The day Landeros returned to Medford, he had a chat with Devine in his office, and they "both agreed it was perhaps time to part," according to Devine. "I think we were both regretting what the company had turned into," explains Landeros. However, the board of directors, in a fleeting attempt to keep the company together, tried every available option to keep the two from splitting up. Although Devine originally wanted to seek outside financing for a new company and start fresh, the board offered to set up a new company for him as a subsidiary of Trilobyte. As a stipulation to this arrangement, Devine would lease a new office building two blocks down from the current Trilobyte office, despite the fact that the current building had more than ample space to house his team.
"To be honest, the second I left the Trilobyte building, it was the beginning of the end," says Devine. "From then on, both Rob and I were hearing things secondhand, and it got blown way out of proportion." Before long, Devine had set up his Assault team down the street, and Landeros kept control over the Trilobyte properties at the old office, including Tender Loving Care. "I was relatively happy with the arrangement," explains Landeros, "so long as Graeme had his autonomy and I had mine."
Devine says that as soon as he left the Trilobyte building, "Rob asked me not to come into the office again. Then a few days later one of the IS guys brings over a computer from that office and he's accused of stealing it." All of a sudden, individuals were getting very territorial. Most of the employees, caught in the middle of this unfortunate situation, didn't know what to think. Although Graeme and Rob would never say anything negative about each other, "those around them were starting to be very negative," explains artist Ken Nash.
All of a sudden, Trilobyte was fractionalized into two vastly feudal fiefdoms. With all lines of communication cut off between the founders, the result seemed inevitable. Devine and Landeros were becoming Pied Pipers leading the company and its legacy into the river - everyone knew the writing was on the wall, but they didn't know how to put an end to the personal animus that was eating away at the very soul of the company.
On top of all this, Clandestiny was approaching its ship date, and Landeros was forced to handle last-minute issues. Clandestiny was meeting with a lukewarm response from buyers, no doubt scathed by the 11th Hour fiasco. "We had a meeting at Trilobyte about what kind of binding to put on the Clandestiny manual," recollects Landeros, "and 15 minutes later Graeme e-mailed me complaining he wasn't consulted on the binding issue." To Landeros, this was exactly what the separation of authority was supposed to avoid - Clandestiny was Trilobyte business and Graeme was only responsible for development at his subsidiary, Analog. According to Devine, "It was impossible for me not to be involved. Everyone from Trilobyte was e-mailing me and trying to keep me in the loop."
Landeros finally thought he had a solution. "I just decided we needed to put something in writing to clearly articulate what our responsibilities were," he says. "So I wrote up an agreement that we were both to sign and sent it over to Graeme."
The agreement was never signed.
Page 17: Two Rotting Halves
"Trouble at Trilobyte?" screamed the headline of the October 1996 issue of PC Gamer magazine, which went on to cite a source inside Trilobyte who said, "The two founders have stopped speaking to each other." What had until that point been an internal issue at Trilobyte was now in the mainstream media. On October 27, 1996, Landeros denied the story in a Medford Mail Tribune article. "They have not 'split,' but are focusing on different areas of the company," the piece stated. Landeros was quoted as saying, "We still talk a lot; we e-mail a lot."
With cash flow still a pressing issue for Trilobyte, there will little hope for a turnaround anytime soon. "We thought that the most important marketing message was 'From the Makers of The 7th Guest'," says Greg Goodrich. "But in the end, no one really cared." For the 1996 holiday season, Trilobyte was ready to ship Clandestiny and Uncle Henry's Playhouse, a quick three-month project that bundled together many of the puzzles from The 7th Guest and The 11th Hour. 
The prospects were not looking good for sales on those products, and as such, in October of 1996, Trilobyte was forced to lay off 15 percent of its 50-person staff. "Trilobyte grew and didn't have a fiscally responsible group to help them determine how to invest, rather than spend the money," says investor Kessler. "Unfortunately, this is what happens." (For the record, Kessler was part of the board of the directors and influenced the direction of the company).
The relationship between Devine and Landeros was not improving through all this, and the board was growing tired of dealing with the situation. "I don't think maturity had overtaken either of them," suggests CFO Johnson. Investor Derrickson remembers that things got so intense when he flew into town for board meetings he'd have to go to two dinners the night before, "one with Graeme, and the other with Rob. It was just insane," he remembers.
The final curtain call for the partnership between Devine and Landeros came in November of 1996, when Landeros held a meeting at a local restaurant for Trilobyte executives. "All anyone could talk about was what Graeme was doing," remembers Wheeler, who felt like "the tail was wagging the dog. Here we were, almost done with TLC, and everyone was worried about Graeme's Internet project." Wheeler admits he had "negative things to say about Graeme" at the meeting, but what he didn't know was Devine's next door neighbors were sitting at a nearby table soaking it all in. "Afterward, I hear about this meeting where everyone was publicly attacking me, and I was disappointed it had come to that," admits Devine. "How it went from sitting on a couch and resolving issues to not talking to each other I don't know, but I still liked Rob through all of this. The last e-mail I sent to him, I said point blank, 'I'm not trying to run Trilobyte from this building.'"
Although Landeros and Devine still owned the majority of Trilobyte, the company was strapped for cash. Since both founders had rolled their royalties back into the firm, they had few financial resources to pull from to help the company. As such, the investors, with dollars in their satchels, had a newfound authority in plotting the course of Trilobyte if it was to survive.
"Collectively, the two halves were rotting, and we had to pick a half," admits Johnson.
Page 18: The Great Divide
"I still remember driving down I-90 in Seattle and telling [COO] Kellyn on my cellular phone, 'Buy Rob out,'" recalls investor Derrickson. "I was just completely frustrated. These guys had to kiss and make up or [get a divorce]." "The board just wanted to force the issue," says Landeros. "Graeme was saying full-motion video was dead, and I think the board was starting to believe him." As for Derrickson's decision to "Buy Rob out," he says the choice of which half to pick was a difficult one, but it came down to a simple calculation: "Graeme was the technology, and Rob was the creative. Trilobyte had the chance to be an innovative technology leader, and a bet on Graeme was a multiple product bet. With Rob, if TLC wasn't a winner, we were dead." 
Martin Alper suggests it's important to point out the content of TLC was not the biggest problem. "Rob believed in interactive movies, and most of the public didn't. It's as simple as that. And to venture capitalists, they are more often than not looking to bet on technology, not creative resources." Vulcan Ventures, Paul Allen's company, was prepared to exercise warrants and infuse another $1.125 million into Trilobyte, but only if there could be a newfound focus. Wheeler feels the investors are the ones who had forced a split that didn't necessarily need to happen. "These investors are like Vegas people running from the roulette table to the blackjack table because someone was starting to win money at blackjack," he proclaims.
So, in late November there was a final fateful board meeting. Devine called in from home. Landeros sat in the conference room at Trilobyte's headquarters and "felt the board wasn't supporting the agreement I had drafted, and it just felt like it was it for me," he says. "No one said I was fired, but walking out of that room I realized I had been shown the door." At home that night with his wife, "I was in some ways relieved I had been shown the door - I just wanted to make sure TLC was going to survive."
After the final board meeting, with Devine listening to the proceedings over the phone, it was up to the lawyers to craft a separation agreement. Neither Landeros nor Devine seemed particularly pleased with the way things had ended. "I think we could have both respected each other more near the end," theorizes Landeros. For him, the toughest part was the fact that as soon as it had been determined he was the odd man out, "it seemed like all the support I had inside the company disappeared overnight." He says that people he thought of as friends inside Trilobyte, "really surprised me in how they handled the situation. There just seemed to be no personal support among the people I considered friends."
At the end of 1996, no one inside Trilobyte was happy. It was hard to believe how far the company had fallen from the glory days of a $50 million valuation, or even the days when Devine and Landeros would watch movies together, work together in the tavern, and hit the greens. The magic that had created The 7th Guest had all but been forgotten, and two friends who once meant the world to each other, would go on separate paths, severing the partnership that had executed one of the biggest CD-ROM games of all time.
Part 5:
Page 19: A New Ascension
 
On January 1, 1997, at 8:45pm, Devine sent an e-mail to the entire company that officially announced the split. "Rob and I parted ways," he wrote. "While some might see this as the cosmic equivalent of a rip in space tearing apart the universe, it was never written anywhere we were destined to stay together." The goal, according to Devine, would be to refocus on creating an Internet game and leave behind that "darned haunted mansion." Devine rallied his troops in the e-mail and said those who didn't want to work on the Internet game should start "polishing their resumes."
Clearly, Trilobyte needed a new focus. Sales figures from the company's late 1996 releases had arrived, and Uncle Henry's Playhouse had sold through 27 (yes, twenty seven) units in the US, according to PC Data. It would eventually go on to sell 176 units worldwide. Clandestiny had only sold about 5,500 copies through the holidays, although it would go on to sell close to 20,000. Trilobyte's idea of self-publishing wasn't panning out and, as such, the decision was made to take a retrograde step and become a developer again, shedding the brick-and-mortar distribution-and-marketing end of the company.
In early 1997, Devine and COO Kellyn Beeck headed up to Seattle to demonstrate the current progress on the tank game Assault to Paul Allen, whom Derrickson refers to as a "supportive and patient investor." After seeing Devine's pitch of the Internet technology, "Paul agreed that if these guys can now focus and jettison all the other stuff, [Trilobyte could succeed,]" says Derrickson. As Kessler remembers, "Paul just sat there, watched the demo, and said in a booming Darth Vader voice, 'Impressive!' and walked out of the room." Just like that, Trilobyte had been cleared for another $1.125 million in financing. All the full-motion video games were a distant memory - Landeros and Wheeler set up their own company, named Aftermath Media, in early 1997 and acquired the full rights to TLC as part of Landeros' separation agreement. 
Although Devine wanted to do a 3D action game, he also wanted to take the concept a step farther and make it an online-only game - a risky move in 1997, when the Internet was still very much in its infancy, at least in terms of online gaming. Still, one publisher that saw potential in Devine's concept for an online game was Broderbund. Company executive Ken Goldstein remembers, "When I first saw [Assault] I was blown away - the idea of having multiplayer cooperative and competitive gaming going on with 24-plus players on a team was earth shattering." Goldstein, who was looking to diversify Broderbund's gaming lineup (his division was later renamed Red Orb Entertainment), saw great potential in Assault and agreed to sign the project to a publishing agreement.
Trilobyte had briefly considered publishing the game for free over the Internet as a test of its technology, but once Red Orb entered the fold, the design of the project quickly changed, according to Devine. "The first thing that Red Orb said was that we had to have a single-player game in addition to an online-only game," he remembers. To Goldstein, the market wasn't mature enough to handle an online-only game, and "any publisher that put out an online-only game in 1997 had their head handed to them," in his estimation.
Refocused and reinvigorated, Trilobyte pushed on with development of Assault, which was soon renamed Extreme Warfare. Devine's core team of roughly a half-dozen individuals changed the game from what was a top-down tank game into a third-person perspective combat title featuring multiple vehicles set on Mars. At E3 in June of 1997, Extreme Warfare was shown to a select group of media. At the time, the press was excited by the concept. GameSpot called it, "An absolutely beautiful online-only game from (surprise) Trilobyte. [Extreme Warfare] has the concept, look, and feel to be one of the best multiplayer games released this year." Next Generation proclaimed the game to be "The next big thing in multiplayer gaming."
It's never easy for a company to reinvent itself, but all signs were pointing to Trilobyte overcoming the odds and turning from a large-asset CD-ROM developer into an Internet real-time 3D powerhouse. However, by mid-summer there were signs that Extreme Warfare was starting to slip past its planned 1997 holiday release date. To some inside the company, it felt as though all the effort was going into developing technology, with little emphasis on the actual game design. "I started to lose faith in Extreme Warfare," says artist Tito Pagan, "because there was a lack of a design document - it just felt like a research project."
Through the summer, Devine worked furiously in tandem with his two musketeers, programmers Sherman Archibald and Doug Marien, to perfect what he had named the Salvation engine. As artist Rob Stein remembers, "Graeme drank so much coffee during the development of Extreme Warfare Starbucks actually cut him off after his tenth triple latte one day." 
Progress on Extreme Warfare, however, stalled. Although Trilobyte had some financing in the bank, by the latter part of 1997, the additional capital from the Paul Allen group was wearing thin. Trilobyte was now relegated to a milestone development schedule with Red Orb, which meant it would only receive additional funding for the project as certain features were added to the game. By August, Trilobyte, woefully behind on milestones, was starting to feel financial pressure.
By December, Devine was frank about that pressure. "The milestone system has killed development down to a weekly list of points [we have to deal with]," he wrote in an e-mail. "It has killed momentum." All told, the cushion of revenue from The 7th Guest and The 11th Hour was no more. The success of those games was a distant memory, as were millions of dollars in revenue that evaporated in just a few short years.
Page 20: Absofrickinglutely 
"Our current to do list is 29 items long," wrote Devine in a January 13, 1998 e-mail to the Extreme Warfare team. With issues such as online chatting, shadows, and music still to be addressed, Extreme Warfare was starting to face significant development delays. At the same time, Trilobyte developed another concept for a game, first called Extreme Racing (later renamed Baja Racing) that was also signed with Red Orb. Although Trilobyte was in need of an additional revenue stream, to most inside Trilobyte, there were bandwidth issues.
"We had a very small team in the first place for Extreme Warfare," says producer Jean-Marc Chemelda, "and when we added on Extreme Racing and didn't hire any new employees, I think our bandwidth wasn't capable of handing both products at the same time."
In February, Devine posed the question, "Will we be here in a year?" in an e-mail. His response? "Absofrickinglutely." But to some inside the company, trying to meet milestone dates with a skeleton team proved a daunting task. "Red Orb started to taunt us," says programmer Marien. "'They'd say, 'Give us your milestone and you'll get your money.' We ended up just cramming features into the game to get our money," a common problem some developers face under a milestone model.
As Trilobyte continued work on Extreme Warfare, Devine forwarded a GameSpot news story to the entire team on March 3. The subject was telling: "Ah, the Wheels of History." In the enclosed story, GameSpot said, "Unconfirmed reports on the Web indicate that Cyan Inc., the creative team behind Riven and Myst, has lost two of its key partners." Later that week, it would be learned that Rand and Robyn Miller, the co-creators of The 7th Guest's biggest competitor Myst, had decided to go their separate ways and dissolve their partnership.
Speaking of The 7th Guest, in early 1998 Virgin Interactive tried to reinvent the franchise in real-time 3D with a top-secret project code-named The 13th Soul, which was built as a third-person real-time 3D game that took place inside the Stauf mansion. "Legend Entertainment built us a prototype using the Unreal engine," recalls Virgin's Keith Greer. "It looked really promising," he says, but due to changes at Virgin (including the sale of the company by parent Viacom), The 13th Soul was never put into full-scale production.
At Trilobyte, the primary focus was to deliver Extreme Warfare to Red Orb. The publisher was so excited about the game it promised Trilobyte the same marketing muscle that had been given to Riven: The Sequel to Myst, if Trilobyte could deliver it on time. "The deal with Red Orb is simple," explained Devine in an e-mail to the team in April 1998. "We must finish the game in four months."
However, Extreme Warfare would slip again; after a less-than-impressive showing at the 1998 E3 show in Atlanta, the project lost momentum. "Unfortunately, Extreme Warfare went the same way as The 11th Hour," says investment representative Ralph Derrickson. "There was a continual schedule creep, and what Graeme didn't realize was that because he was doing something for online, it didn't have to be perfect, like a CD-ROM. If people responded to it, then you could update it and give them more." 
Despite the schedule creep, June of 1998 would bring the $420 million purchase of Broderbund by The Learning Company, which was a crushing blow to the Extreme Warfare project. Although the team continued to work on the game through the summer, it quickly became clear that The Learning Company wasn't interested in picking up Trilobyte's two online-based projects. By September, Devine was telling the company over e-mail, "We are 95 percent cancelled." At the time, The Learning Company said it didn't want to develop any games for the Internet, regardless of the developer. Still, the long development delays and stalled progress on the game were no doubt important contributing factors in The Learning Company pulling the plug. 
Although The Learning Company wasn't interested in the game, it did give Trilobyte the ability to go out and see if it could sell the projects to other publishers. By the fall, Trilobyte was talking to a list of publishers that spanned the alphabet from Acclaim to Ubi Soft. Although Red Orb had contributed $800,000 toward both games, the amount wasn't enough to finish the titles. Any publisher that picked up both titles would have to invest hundreds of thousands of dollars to put the final spit and polish on them.
Complicating the situation was Trilobyte's insistence on finding a partner to acquire the company, not just publish its products. Although Trilobyte had numerous offers from publishers to pick up Extreme Warfare, it held out for a company that was interested in buying the whole kit and caboodle. 
That acquisition would never materialize.
Part 6:
Page 21: The Bitter End
By September of 1998, Trilobyte was without a publishing deal and void of financial resources to continue development on Extreme Warfare. In a show of support, and in the hopes of still finding a publisher for its product, the majority of the team decided to stay together and hunker down. On September 15, payroll was cut at Trilobyte, and everyone at the company applied for unemployment insurance, with the exception of Devine, who was ineligible as the owner of the company.
The company stayed afloat through the fall, as there was still interest in Trilobyte from a number of major publishers, such as Electronic Arts and Midway Games. Of particular interest to some potential partners was that Trilobyte had the intellectual property rights to The 7th Guest, still a highly recognized game brand. One major publisher was extremely interested in purchasing Trilobyte and then having it do a real-time version of The 7th Guest for Halloween 1999. The deal never panned out.
But Midway Games was hot on the trail of Trilobyte through the final months of 1998. Interested in expanding its PC business, the company had lengthy discussion with Trilobyte about the prospects of an acquisition. At one point, four Midway executives (including Mortal Kombat co-creator Ed Boon) flew up to Oregon and interviewed every employee at Trilobyte. By mid-December, Trilobyte looked to be on the verge of a deal. "This may be Trilobyte's twilight," said Devine in an e-mail, "but somehow, I think it's more of a dawn. We're on the road to becoming a subsidiary of Midway games."
On December 18, 1998, with the holiday season already in full swing, the dozen employees of Trilobyte had been without pay for more than three months. Devine appealed to the Paul Allen group for bridge financing in the hopes it would let Trilobyte and the employees survive long enough to make a deal with Midway. The request was denied. "We've gone from spending $600,000 a month to having that be enough money to last us a year," wrote Devine in an e-mail. "What we misspent could [have] run the company for 20 years. If there's a lesson, it's the value of a dollar."
As the team waited for any news from Midway, Devine fleshed out other designs for future projects. He put together a concept for a role-playing game named Trojan Planet and also started to flesh out a detailed ten-page design for The 7th Guest III. In the design document, he wrote, "Most of the town has forgotten the events that happened at the Stauf mansion, but one person, older now, remembers the events. That one person is Tad, a writer by trade." Later in the document, Devine revealed, "To those who don't know, Tad was the young boy revealed to be the player at the end of T7G."
Yet as the employees of Trilobyte headed into the holidays, there was still no news from Midway. There was talk of moving the entire team to San Diego, but by the end of December, Midway stopped calling. "No salary since August has been a lesson in itself," wrote Devine. "Now it doesn't take much to get knocked off your pedestal, even if you don't realize you're on one."
In early January, with no publishers calling and Extreme Warfare idly sitting on a network hard drive, Devine was forced to face the grim reality that Trilobyte's final days had arrived. On January 16, he sent out what he believed would be the final daily e-mail to the team. "In the end, I never outran the shadow of The 7th Guest," the e-mail began. "Mean old Stauf casts his long and bony shadows across this valley, and Trilobyte will always be remembered for those games and none other."
In late January, the eviction notice was posted on the company's office door. "Electricity will be cut off by the end of the week, and our Internet will go down on Monday," Devine wrote. On February 2, Devine, his wife, and Trilobyte's first employee, office manager Diane Moses, turned the light switch off for the final time. The shadow of Stauf had enveloped what was left of Trilobyte.
"You look back at it like it was Camelot," Landeros told the Medford Mail Tribune after learning of Trilobyte's demise. "[It's] a dream that has died."
Page 22: Shades of Perspective
Since the dissolution of Trilobyte, Wheeler and Landeros' appropriately named Aftermath Media has adapted Tender Loving Care to DVD technology and has just recently released a critically acclaimed DVD-Video version of TLC. Although critics have praised the product on CD-ROM - The London Times gave it a 9/10 score - blockbuster success has not yet befallen Aftermath. Its next product, a game show for the future based on the classic '80s game Lexi Cross, moves away from the controversial content of Tender Loving Care, and is currently in production. Landeros and Wheeler work together in a small Ashland, Ore., office, and from time to time they both see former Trilobyte employees around town. 
After leaving the Trilobyte office for the last time, Graeme Devine moved to Texas to take a position with id Software, where he is currently working on Quake 3: Arena, due for release later this year. 
The other employees who remained with Trilobyte through the bitter end are still trying to recover from its downfall. Devine hopes to sell off The 7th Guest intellectual-property rights and distribute any revenue from that sale to the employees who went off salary. 
Devine and Landeros haven't spoken to each other since that ill-fated board meeting in November of 1996, and they have no immediate plans to get back in touch. "I hope we have both learned from the situation," explains Landeros. "I really don't think Graeme did anything with malice toward me, and I wish him the best of luck in the future." "I've never had a problem with Rob personally," says Devine, "and I don't have any venom toward him at all." At the end of the day, the two founders remain the most objective of all about what led to the rise and fall of their dream.
To some, it may be hard to understand how a company that had once been valued at more than $50 million could end up annihilating its worth in a matter of a few short years. "At the end of the day, there were no Ferraris to sell, or lives of rock n' roll and drugs," admits Devine. Because he and Landeros rolled all their royalties back into the company, at the end of the day, "I was just a guy with a mortgage like everyone else," he says. 
Yet with the story of Trilobyte, "there is nobility in the failure," according to Red Orb's Ken Goldstein. In early June, after an extensive five-hour interview for the article, Devine sent an e-mail to make sure the tale of Trilobyte was cast in the right light. "The story of Trilobyte isn't one of failure," he began, "but it's one of human spirit and success." Despite the differences among the personalities and the antagonism that developed, Devine says he still has positive memories of the fossil that is now Trilobyte. "The results of the last nine years have given me some lifelong friends, a daughter, and in the end, made me a better man," he says. If Devine has a regret, it's that "I should have quit when I wanted to and not tried to play for the team."
Landeros has positive memories of his time at Trilobyte, but he remains hurt by the way things ended. "[The story of Trilobyte] does make you ponder when you are friends with someone, what is that contingent upon?" One night, during a phone interview, with a Top-40s radio station gently filtering into the conversation, Landeros recalled the lyrics to an old Billy Holiday song to express his sentiment:
And when you got money,
You got a lots of friends
Crowdin 'round your door
When the money's gone
And all you're spendin' ends
They won't be 'round any more
No, no, no more
— God Bless The Child (Arthur Herzog Jr., Billie Holiday) 
In the end, the story of Trilobyte may be one of human spirit, sorrow, and ephemeral success, but it is also one that illustrates the cutthroat world of business. "The days of the garage operations and the emergence of creative forces are quickly coming to a close," says Virgin's Martin Alper. "When you have those breakthrough hits, you have to know how to follow them up. With Trilobyte, they wouldn't let the business people run the company, and when that happens you're always in trouble." 
In the end, Devine and Landeros were set on determining their own destinies. "They wanted to be Van Gogh time and again," explains Costello, "And that's great, but you can't always do that in a corporate setup." There is a time to innovate, and there is a time to exploit. Trilobyte, in many cases, shunned the latter in the hopes of always championing the former. And more often than not, such a decision can be the kiss of death.
The dark clouds of failure may still circumscribe the story of Trilobyte for years to come, but in the end, like the Beatles, the company will be remembered for its successes, not its failures. In the annals of history, The 7th Guest will go down as a game that revolutionized the PC CD-ROM market, and Trilobyte will be known as the company that made possible the game everyone thought was impossible.